Our sales department is staffed with experienced professionals whose
main focus is customer service.
We offer: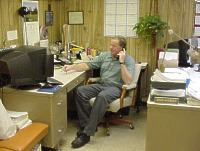 ACCURATE ESTIMATES
Our computerized estimating system enables us to rapidly develop an accurate cost of the equipment required. Every quotation is then subject to a management review. This helps to ensure the accuracy of all customer quotations.

GUARANTEED
All vessels are designed to meet rigorous standards set forth by TEMA, HEI, API or ASME as applicable to the application.

ALL INCLUSIVE PRICING
Every price given for an Atlas exchanger includes the integral supports, packaging appropriate for the unit and mounting on heavy duty skids.

MANAGEMENT REVIEW
Every quotation is reviewed and approved for accuracy before it goes out to the customer.
SEND US YOUR INQUIRY
Click here to fill out and submit a Heat Exchanger Specification Sheet.

Since 1959, Atlas has meant quality, reliability and service. Let Atlas help you with your next heat exchanger inquiry.